London born artist
Lord K2
has roots in fine arts, visiting the hallowed halls of the city's famous museums at an early age. Since then, he has left London for the rest of the world, traveling to South America, Asia and the U.S., creating street art and photography and blending his artistic background and other interests into a uniquely overlapped art form as well as other creative endeavors. Lord K2 explains his process and travels to JustLuxe as his work lands in museums around the world.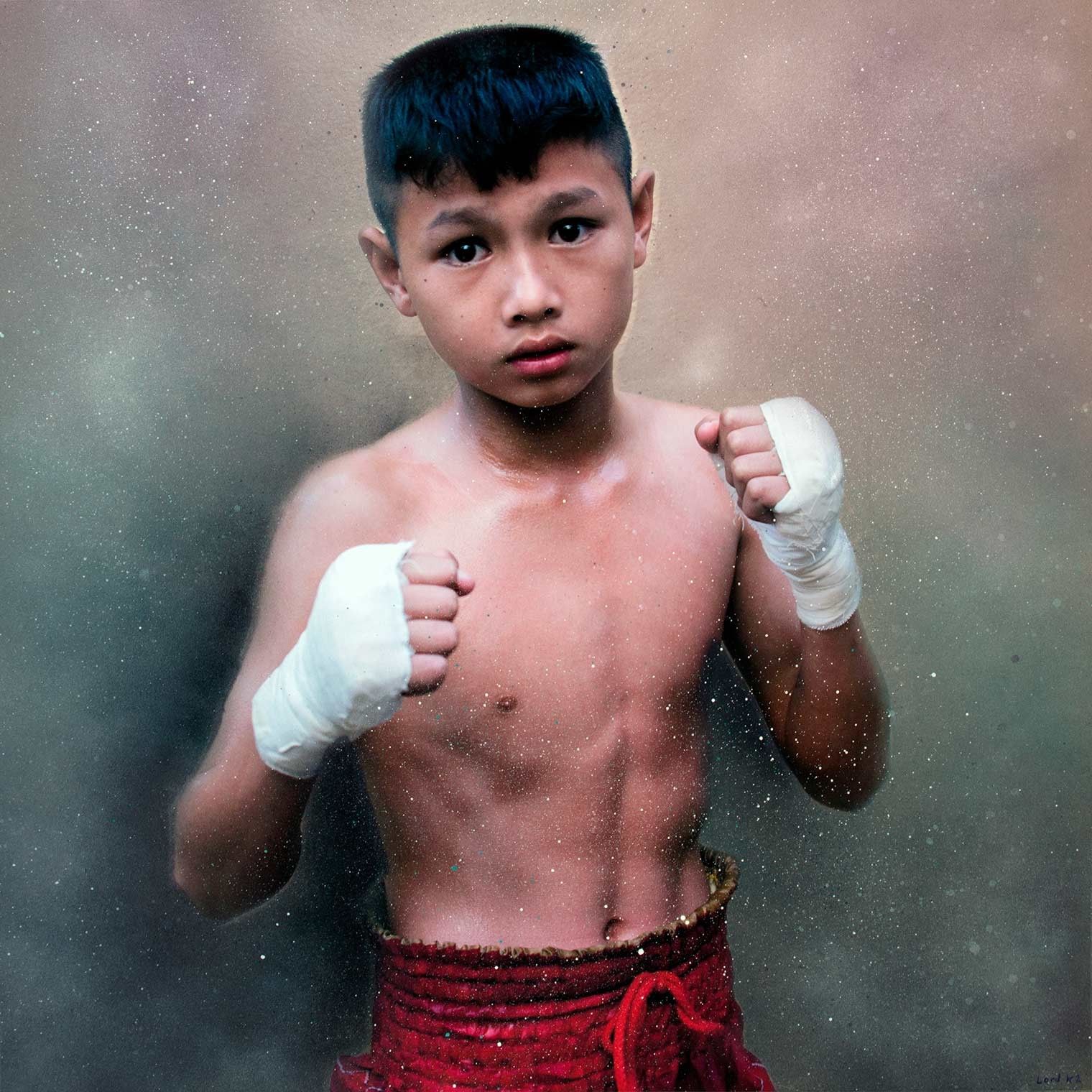 Photos Credit: Lord K2
How did you get started as an artist?
I was always one to visit art galleries and museums and I was particularly drawn to photography. I started as an artist 4 years ago after dislocating my shoulder for the 3rd time in Brazil. My doctor notified me that competitive contact sports were out of the equation for me. I felt a sense of doom, as that is what I lived for, but a few days later I made a decision to practice art full time. I felt it would keep me occupied enough to take my mind off the sports I enjoyed. My art career commenced as a full time hobby but is now turning into a profession.
 Nov. 2014. Taphae Gate Stadium, Chiang Mai. The referee signals to the fighter to stand in his corner after a knockdown.
How would you describe your art?
I pursue two fields of art. Photography and Stencil Graffiti. They also overlap as I cut my stencils from photographs. I would say that my photography fit's into the Documentary/Fine Arts genre. So far all my photographs are based on real life situations, as reality itself is fascinating enough. I initially started off documenting street art in the urban context as well as the culture that surrounds it. I am now documenting Muay Thai and it's culture. What I enjoy most in photography is the candid aspect without intervening with what is actually happening. My Stencil Art is based on topics that interest me. I'd pick a topic I fancy and proceed, the emphasis is then on the aesthetic quality.
 Jan 2015. Hot District, Chiang Mai. Two kids battle it out at a Buddhist Monastery whilst gamblers cheer them on in Northern Thailand.
Who are your main influences? 
The photographers who influenced my work are Henri Cartier Bresson, Garry Winogrand, Steve McCurry, Ruth Orkin and Shomei Tomatsu.
Re. Stencil Art, I would say Cabaio, Boxi and Jef Aerosol.
You're becoming well known for your Stencil Graffiti artwork, tell me a bit about your process?
The process involves choosing a photo, then manipulating it if needed in Photoshop. The next step is to make adjustments suitable for stenciling before printing. Then I would place plastic over the print and cut out the shapes. I would cut up to five layers then I would superimpose them. After spraying, I would do a little freehand work to add to the mix.
 Dec 2014. Taphae Gate Stadium, Chiang Mai. A kid is being oiled before engaging in battle.
Do you consider yourself a street artist? 
I started off by spraying on the streets of Buenos Aires and then Chile. I have then had so little time as I've been traveling a lot and photographing that I am not sure if I can consider myself a street artist unless I'm out there getting my hands dirty spraying consistently.
How did the name Lord K2 come about?
It came about when I was watching K1 Martial Arts, I liked the name K1, but it was associated too strongly with martial arts, so I then went for K2, I just liked the sound of it. Then after a while I decided to go for a more distinctive name. As I spray in different countries and other artists see me as too posh for the streets, I added Lord as it identifies me with my birthplace and is a play on the fact that I don't stem from the streets.
Feb 2015. Saraburi, Thailand. A child fighter stands in his corner as he stairs at his opponent whilst awaiting the resumption of his fight.
You also do fine art photography.  Tell me a bit about your work in that arena?
I photograph topics that interest me and in environments I enjoy being in. A theme would arise organically and I'd go and snap away. For me aesthetic qualities are important as well as clearly defining my vision of what I'm photographing. I enjoy building up a series of photographs that tells a story.
Victims. Paste up of a stencil piece done in Ho Chi Minh, Vietnam. 'Victims of Consumerism'
You have a new book out titled "Street Art Santiago," what made you pick that as a topic for a book?
I commence the book 4 years ago at a time when I was doing street art and wanted to explore and delve more into it's subculture. The plan was to backpack around South America whilst documenting graffiti. My first port of call was Santiago in Chile; it happened that it was my final port of call before returning to Argentina. The quality of street art was high and the culture so rich that I felt compelled to compile a whole book on Santiago alone.
Walton Fine Arts Gallery in London
You're originally from London, but you seem to travel quite a bit with your different projects.  How do you think being exposed to different cultures has impacted your art?
I love travel, I love exploring new places and learning new things, I also have a determination to avoid winters at all cost. I think a big part of my inspiration to photograph is that it allows me to travel; conversely, it's travel that has allowed me to understand global trends and ways of being which has broadened my horizons and allowed me a greater clarity of vision to discover subject matter to photograph.
Walton Fine Arts Gallery in London
Is your work currently in galleries? 
I currently have collections in a few galleries.
Most notably, a series of three portraits of Thai boxers on canvas (photography and spray paint mixed media) as well as a few limited edition black and white prints at Walton Fine Arts.
I have a solo exhibition coming up at the Basel Gallery in Tel Aviv in December. I will have a series of 15 portraits of Thai Boxers on display, once again on canvas with a mix of photography and spray paint. There will also be a video instillation portraying scenes of the surrounding Muay Thai culture projected on to the wall, which was filmed by Danielle Mitchell, who was simultaneously filming as I was taking photos.
What future projects do you have coming up?
I have completed a street art book on Buenos Aires, which will probably be released in 2016. I am in the process of completing one on New York. Alongside that, I am finishing off my photographic series on Muay Thai in Thailand.
My next venture is to document Sumo wrestling in Japan. I am looking forward to the challenge of seeing if I can gain inside access in to this often-secretive world.
I also plan to travel through India documenting my surroundings in various locations in order to compile a series of collages.
I have also penned in another interesting project, which I'll reveal in due course.
SOURCE: http://www.justluxe.com/community/artist-lord-k2-brings-his-fine-art-experience-to-the-streets_a_1959683.php#sthash.DU7ohLPQ.dpuf